Trip Sheet
Ottohaus via Wachthüttelkammsteig (Rax, Niederösterreich)
Date: Sunday October 19th
Suggested by: Peter Levenitschnig (probably I will not yet be able to take part myself)
Description: Starting from Höllental (picturesque valley between Rax and Schneeberg) via Wachthüttelkammsteig (easy Klettersteig) to Ottohaus and back. Easy and short variation by cable railway from Hirschwang.
Route: Weichtalhaus (563m) - Wachthüttelkammsteig - Ottohaus (1.644m) and back.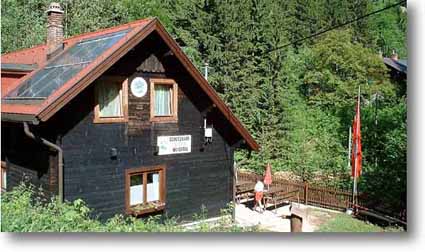 Variation: Up and down by cable railway starting from Hirschwang, ending at the height of 1.547m, then 1/2 hour walk (one-way) to Ottohaus. Easy walk, but come with winter clothes! At Ottohaus joining the rest of the group for lunch.
Length of activity, difficulty:
Part of the route easy but steep Klettersteig (grade of difficulty: A, no Klettersteig gear necessary). Difference in elevation: 1.082m. Way up appr. 3,5 hours, down appr. 2,5 hours. High alpine route because of height and season (weather might be winterly or mild).

Meeting point and ending point: Parking space beside Weichtalhaus
Meeting time: 9.00 a.m
Lunch at Ottohaus: Appr. 1.00-3.00 p.m.
Detailled description of trailhead:
From parking space beside Weichtalhaus cross the river then go upstream (direction Schwarzau) for about 200 meters, then follow the signs, turn left and start. The trail is leading up steeply in curves right from the start. If you go over a long steel staircase (Schönbrunnerstiege), you are wrong!

Car connections: Wien - Südautobahn - exit to Schnellstraße direction to Semmering - Gloggnitz- Hirschwang (cable railway station) - Weichtalhaus. 103 km appr. Calculate additional time for driving, since from Gloggnitz there is only slow speed possible (narrow street with many curves).
Car sharing: Perhaps members could offer car sharing if necessary?
Equipment:
Hiking boots, rain jacket, warm pullover, cap, gloves, drinks, snacks (lunch at Ottohaus).
If the weather report is bad, please queck with Tim or Monika if the trip takes place!